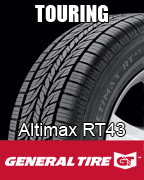 Enhanced construction has given General Tire's new all-season touring tire, the AltiMAX™RT43, a quiet and comfortable ride, year-round traction, even wear, and extended treadlife.
Prices are for four, taxes included, eco fees included, installed & balanced.
If multiple speed ratings are available, only the lower speed rating is listed.
Prices subject to change without notice.
13"
175/70R13 General Altimax RT43 only $370

14"
175/65R14 General Altimax RT43 only $420
175/70R14 General Altimax RT43 only $420
185/60R14 General Altimax RT43 only $470
185/65R14 General Altimax RT43 only $440
185/70R14 General Altimax RT43 only $440
195/60R14 General Altimax RT43 only $510
195/70R14 General Altimax RT43 only $440
205/70R14 General Altimax RT43 only $470

15"
175/65R15 General Altimax RT43 only $470
185/55R15 General Altimax RT43 only $560
185/60R15 General Altimax RT43 only $470
185/65R15 General Altimax RT43 only $470
195/55R15 General Altimax RT43 only $535
195/60R15 General Altimax RT43 only $490
195/65R15 General Altimax RT43 only $470
205/60R15 General Altimax RT43 only $535
205/65R15 General Altimax RT43 only $510
205/70R15 General Altimax RT43 only $470
215/60R15 General Altimax RT43 only $535
215/65R15 General Altimax RT43 only $490
215/70R15 General Altimax RT43 only $490
225/60R15 General Altimax RT43 only $560
225/70R15 General Altimax RT43 only $510
235/70R15 General Altimax RT43 only $560

16"
185/55R16 General Altimax RT43 only $580
195/50R16 General Altimax RT43 only $560
195/55R16 General Altimax RT43 only $560
205/50R16 General Altimax RT43 only $580
205/55R16 General Altimax RT43 only $510
205/60R16 General Altimax RT43 only $580
205/65R16 General Altimax RT43 only $535
205/70R16 General Altimax RT43 only $605
215/55R16 General Altimax RT43 only $605
215/60R16 General Altimax RT43 only $510
215/65R16 General Altimax RT43 only $510
225/55R16 General Altimax RT43 only $605
225/60R16 General Altimax RT43 only $535
225/65R16 General Altimax RT43 only $560
225/70R16 General Altimax RT43 only $560
235/60R16 General Altimax RT43 only $560
235/65R16 General Altimax RT43 only $535

17"
205/45R17 General Altimax RT43 only $630
205/50R17 General Altimax RT43 only $655
215/45R17 General Altimax RT43 only $630
215/50R17 General Altimax RT43 only $700
215/55R17 General Altimax RT43 only $630
215/60R17 General Altimax RT43 only $535
215/65R17 General Altimax RT43 only $535
225/45R17 General Altimax RT43 only $675
225/50R17 General Altimax RT43 only $630
225/55R17 General Altimax RT43 only $630
225/60R17 General Altimax RT43 only $655
225/65R17 General Altimax RT43 only $580
235/45R17 General Altimax RT43 only $675
235/55R17 General Altimax RT43 only $655
235/60R17 General Altimax RT43 only $655
235/65R17 General Altimax RT43 only $655
245/45R17 General Altimax RT43 only $750

18"
215/55R18 General Altimax RT43 only $655
225/50R18 General Altimax RT43 only $675
225/55R18 General Altimax RT43 only $800
225/60R18 General Altimax RT43 only $675
235/45R18 General Altimax RT43 only $840
235/50R18 General Altimax RT43 only $840
235/55R18 General Altimax RT43 only $800
235/60R18 General Altimax RT43 only $700
235/65R18 General Altimax RT43 only $770
245/40R18 General Altimax RT43 only $865
245/45R18 General Altimax RT43 only $840
245/55R18 General Altimax RT43 only $915

19"
225/55R19 General Altimax RT43 only $890
235/55R19 General Altimax RT43 only $890
255/45R19 General Altimax RT43 only $1125

20"
245/50R20 General Altimax RT43 only $935